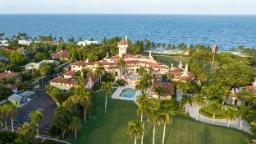 Here's what you need to know to Get Up to Speed and On with Your Day.
(You can get "5 Things You Need to Know Today" delivered to your inbox daily.
Sign up here
.)
1. Mar-a-Lago
The Justice Department has a deadline of noon today to
release a redacted version
of the Mar-a-Lago search warrant affidavit. That affidavit lays out why investigators believe there was probable cause that crimes had been committed. The warrant
authorized the FBI to search Trump's home
and private club earlier this month and remove boxes of documents, prompting a flurry of criticism from the former President. This comes after Justice Department prosecutors emphasized that they need continued secrecy in order to not disrupt the ongoing criminal investigation. It remains unclear how blacked out the redacted version of the affidavit will be.
2. Ukraine
3. Floods
4. Cell service
5. Gas cars
BREAKFAST BROWSE
Pour your plants a martini
Oscar Mayer is now selling frozen wiener pops
Restaurant features new dishes every month developed by refugee chefs
The majesty of weather photography
Looking back on 50 years of the Hard Rock Cafe
IN MEMORIAM
QUIZ TIME
Apple is expected to unveil a new generation of which popular product early next month?
A. MacBook
B. iPad
C. Apple Watch
D. iPhone
TODAY'S NUMBER
$24 billion
TODAY'S QUOTE
"I will work with my lawyers to fully and truthfully expose my accusers' scheme and defend myself in court. I don't pick fights, but I don't run away from them either."
TODAY'S WEATHER
AND FINALLY
The World's Master Maze Maker