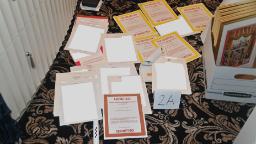 Here's what you need to know to Get Up to Speed and On with Your Day.
(You can get "5 Things You Need to Know Today" delivered to your inbox daily.
Sign up here
.)
1. Mar-a-Lago
US government documents at former President Donald Trump's Mar-a-Lago residence were likely "
concealed and removed
" from a storage room as part of an effort to "obstruct" the FBI's investigation of Trump's potential mishandling of classified materials, the Justice Department said in a filing Tuesday night. The filing represents the DOJ's strongest case to date that Trump concealed classified material taken from his time at the White House. The Justice Department revealed the startling new details as part of its move to oppose Trump's effort to intervene in the federal investigation that led to the search of his Florida resort and his desire for a "
special master
" to be appointed to the case. A picture from
the court filing
also showed classified documents arrayed on the floor of Trump's office — full of classified markings like "HCS," or human confidential sources — displaying how sensitive the material Trump had taken was.
2. Flooding
3. Heat waves
4. Artemis I
5. Gun Laws
BREAKFAST BROWSE
'This is so embarrassing': Woman gets stuck upside down at the gym
NASA releases stunning new image of the Phantom Galaxy
How Princess Diana's style legacy remains relevant
DC Comics featured stereotypical Latino foods on Hispanic Heritage Month covers
Kohl's and Gap have a surprising plan for this season's unsold clothing
IN MEMORIAM
TODAY'S NUMBER
33 million
TODAY'S QUOTE
"This seizure is a prime example of border security management and how it helps prevent dangerous narcotics from reaching our communities."
TODAY'S WEATHER
AND FINALLY
Dog gets annoyed by new puppy