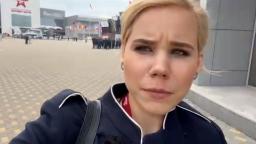 Dugin is a creature of the same decade. He emerged from fringe politics, most notably as founding member of the National Bolshevik party, political provocateurs who combined communist and fascist symbolism with a heaping dose of anti-Western sentiment. There are differing opinions on his relationship with Russian President Vladimir Putin now, though the ultranationalist's teachings were in line with Putin's expansionism, and Dugin is a fierce proponent of Russia's war in Ukraine.
But Russia today is a very different place from the gangsterism of the 1990s. Putin's rise on New Year's Eve, 1999, ushered in a new social contract: Russia would see an end to its criminal lawlessness, and in exchange, Russians accepted a form of authoritarian rule. The bandits no longer ruled Russia — Putin's security services did. That didn't mean that assassinations were no longer a feature of Russia's political landscape: It's just that they were typically carried out against those who challenged Putin's authority.
Regardless of who is behind the killing, or whether Dugina or her father was the real target, the bombing could mark a shift in the pattern of modern-day Russian political killings.
Over the two decades of Putin's rule, many of his most prominent opponents have met violent ends.
Russian society was rocked in 2015 by the assassination of the politician Boris Nemtsov. The political figure, an outspoken critic of Putin's involvement in the war in Ukraine's Donbas region, was gunned down in view of the Kremlin.
Though we do not know who was behind this attack, what's certain is the Russian government will find a way to capitalize on it.
The Kremlin has already seized on Dugina's killing to blame an external enemy — Ukraine — with the FSB on Monday claiming it had cracked the Dugina case and accusing Ukrainian special services of involvement, state-run media TASS reported.