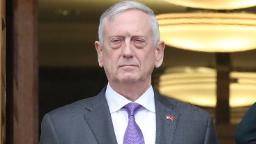 Name: James N. Mattis
Father: John West Mattis
Mother: Lucille (Proulx) Mattis
Education: Central Washington University, B.A. in History, 1971
Military service: US Marines, 1969-2013, four-star general
Other Facts
Nicknamed the "Warrior Monk" and "Mad Dog," and went by the military call sign, "Chaos."
Known for his blunt style of speech and extensive knowledge of military strategy.
Also known for some of his memorable quotes, including, "Be polite, be professional, but have a plan to kill everybody you meet."
Sits on the board of directors of the General Dynamics, an aerospace defense organization.
HBO's 2008, seven-part miniseries, "Generation Kill," follows the story of Marines with the First Recon Battalion through the first part of the Iraq War, with a storyline that includes a portrayal of Mattis.
Timeline
1969 – Enlists in the US Marine Corps.
1972 – Commissioned as a second lieutenant through the Reserve Officers' Training Corps.
2002-2004 – Commander of the First Marine Division.
2004-2006 – Commander of Marine Corps Combat Development Command.
2006-2007 – Commander of I Marine Expeditionary Force.
2007-2010 – Commander of US Joint Forces Command.
2010-2013 – Commander of US Central Command.
2013 – Retires as a four-star general.
August 2013 – Named as a distinguished visiting fellow with the Hoover Institution at Stanford University.
August 2016 – Co-editor of the book, "Warriors and Citizens: American Views of Our Military."
January 18, 2017 – Mattis is approved by the Senate Armed Services Committee with a 26-1 vote, clearing the way for him to be confirmed with a full Senate vote.