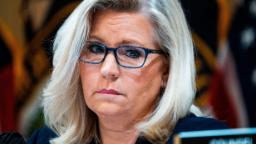 We'll begin our roundup of the week in electoral politics with a different Republican who voted to impeach Trump and has been at the forefront of anti-Trump Republicans in Congress: Wyoming Rep. Liz Cheney.
I'm going to cut right to the chase and say that it will take a small miracle for Cheney for her to win Tuesday's Republican primary for Wyoming's lone House seat. Statistically improbable things happen, but Cheney has both the polling and history against her.
It could be argued that Cheney might have stood a better chance if she hadn't been consistently defiant of Trump. She's the vice chair of the January 6 House select committee, after all. I'm not sure, though, it would have mattered what Cheney did after her vote to impeach Trump.
A look at the two who made it to the general election (California Rep. David Valadao and Washington Rep. Dan Newhouse) doesn't provide a lot of encouragement for Cheney. Both got about 25% of the vote and advanced to the general election in primary systems where all candidates, regardless of party affiliation, ran on the same ballot with the top two vote-getters advancing to November — which means there were a lot of non-Republicans voting.
Just one candidate will advance to the general election in Cheney's primary, and 25% of the vote is likely not going to be enough to win.
Unless something dramatic happens in the next few days, that number, more than anything else, will tell the story of why Cheney's days in Congress are numbered.
Democratic turnaround in special elections
You might have noticed that I mixed polling and real world data in our last section. That's because I'm always looking for examples of what we're seeing in the polling playing out when voters are casting ballots.
When it comes to whether Democrats have been picking up momentum nationally, recent special elections seem to be confirming what the polling is showing. Both show Democrats in better shape now than they have been in a long while.
What makes these elections unusual is that Democrats had, on the whole, been underperforming the 2020 baseline in special elections this Congress. Instead of Democrats doing 6 points better than the 2020 baseline, as they have in the last two special elections, they had been doing about 6 points worse on average in previous special elections.
It would be easy to dismiss these data points as outliers, but Democrats getting a sudden boost in support lines up with polling data and events.
Additionally, the unpopular Trump has been dominating the headlines because of the January 6 House select committee hearings and now the search of Mar-a-Lago.
Whether Democrats are able to keep up this momentum in the weeks and months to come is unknown at this point. We will get a few tests this month, though, with Alaska's lone House district having a special election on Tuesday and two congressional districts in New York holding special elections a week from Tuesday.
For your brief encounters: WNBA playoffs begin this week
Leftover data